In Memory
Harold Ames (Chip) Miller, III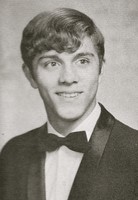 Harold Ames "Chip" Miller, III, born August 27, 1951, in Jacksonville, FL, graduated from Forrest High School, North FL Jr. College and a Master's Degree in the School of Life, passed peacefully from this world on Tuesday morning, May 24, 2005 in the loving arms of family and friends. He is survived by his wife, Debi, parents; Kathryn and Harold, sister, Linda, his only nephew, Brian Rachko, step-children, Deidra and Adam, grandchildren, Noah and Payton.
Chip was a percussionist extraordinaire. His first album hit the charts with well-known Capricorn recording artist Cowboy in the '70's. As his career spanned five decades, he preformed locally and around the country with bands such as Camelot, America's Children, T. T. Badd, Smott Mahuti and Magi. In later years he recorded with Sam Milner, Ace Moreland's West Side Story, Susan Clark, Kelly Bur ke and most recently Cabana Blue. Touring in the '70's and '80's with Pure Prairie League, Joe Cocker and Dolly Parton, Chip lived his passion. It was rare to ever hear him speak of his success in the music world, but the lives he touched did that for him. Even in his final hours some of rock 'n roll's finest stood at his bedside in humble respect.
In the course of his lifetime, Chip organized and selflessly participated in over a hundred benefits and fund-raisers for those in need. Events included concerts for the American Cancer Society, Hospice, close personal friends who had met hard times and total strangers. Rock 'n Roll Heaven has the best drummer it will ever acquire today. Our world is richer because Chip Miller was ours for a time and a bit less because he has journeyed on. We love you, Chip! Thunderdrums forever!

try { var pageTracker = _gat._getTracker("UA-10155751-1"); pageTracker._trackPageview(); } catch(err) {}