Nathan Bedford Forrest

High School




Class Of 1969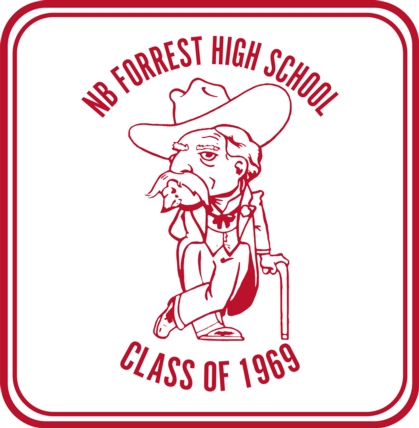 Welcome to the NB Forrest
Class of 1969 Website!

To all you Septuagenarians: Sad to announce that we have to CANCEL our 70th Birthday Gathering.
The current surge in Covid being the primary driver.
Looking forward to a time when we do not worry about this pandemic.
Stay Safe
On a sad note, Coach Jerry Disch passed away on May 20, 2021 at his home in Atlantic Beach, Florida, two months shy of his 95th birthday.
Coach Disch has been added to our Memorial Page at the bottom of the memorial page where you can find a link to his obituary.
About: This website is used to connect and reconnect with our classmates ahead of reunions and get-togethers. Thanks to everyone who made our 50th year reunion, which was held on April 26-27 2019 in Jacksonville Beach, such a huge success.
This site is completely free. However, since we do not pay to use this Classcreator based website, there are Ads interspersed throughout the website on which we have no control
Video: Reunion Video is available - click on "Forrest 50th Reunion Video" - 4th link down on the left.
Reunion Photos: Everyone can now add their own photos to this website! Click on "50th Reunion Photos" the 3rd link down on the left. Scroll to the bottom of the page and click "Create Your Own Photo Gallery Here". Looking forward to seeing your photos!
Logging In Problems: Having trouble with your password or ID, contact us.
---
Please continue to review the Missing Classmates link
---
UPCOMING BIRTHDAYS



try { var pageTracker = _gat._getTracker("UA-10155751-1"); pageTracker._trackPageview(); } catch(err) {}