Nathan Bedford Forrest

High School




Class Of 1969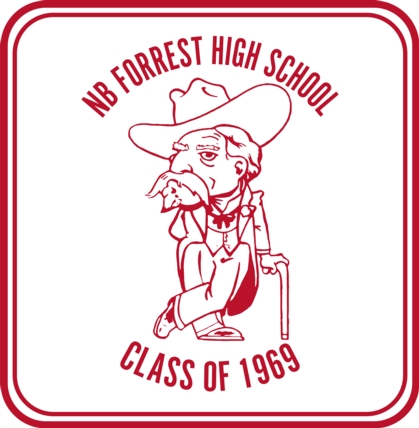 The Reunion Committee met on May 28 for the 50th Reunion wrap up. One thing on which we all agreed:
The REUNION WEEKEND
Was in fact "A BLAST"
One other thing was that the 1969 class should get together again sooner rather than later.
70th Birthday Bash - Save the Date: Equally as hard to believe as our 50th HS Reuion, is that most of us turn 70 in 2 years! The majority of people feel that birthdays ending in a zero are the hardest to take. But this is us - so, rather than mope about it we'll be celebrating this milestone in our own unique Rebel style!
Mark your calendars for the NB Forrest Rebels turning 70 soiree:
April 24, 2021
If you missed the reunion, you won't want to miss this get together - if you went to the reunion, you already know not to miss this one either. There are no other details other than the date at this point. Stay tuned to this website.
Video: Reunion Video is available - click on "Forrest 50th Reunion Video" - 3rd link down on the left.
Reunion Photos: Everyone can now add their own photos to this website! Click on "50th Reunion Photos" the 2nd link down on the left. Scroll to the bottom of the page and click "Create Your Own Photo Gallery Here". Looking forward to seeing your photos!
Last Thing About Posting Pictures: Note that we are somewhat limited on space on this website - don't worry too much about that now - the Admin will monitor and make adjustments as space requires. Post your best photos!
Kuzzies: Were a big hit. However, some who paid did not get one - I know we put more effort in giving them away Saturday night but we were unaware of this issue. If you have extras, please consider returning one and if you did not get one, please let Jim know.
---
Please continue to review the Missing Classmates link
---
UPCOMING BIRTHDAYS



try { var pageTracker = _gat._getTracker("UA-10155751-1"); pageTracker._trackPageview(); } catch(err) {}